Science fiction-forfatter Charles Stross skriver svært interessant om problemene med å konstruere troverdig science fiction lagt til den nære framtiden. Stross hører til kategorien med science-fiction-forfattere som genuint ønsker å si noe om framtiden vi kommer til å leve i – i motsetning til forfattere som ser fremtiden som en mulighet til å fabulere relativt fritt – og hans hjertesukk er vel verdt å lytte til:
We are living in interesting times; in fact, they're so interesting that it is not currently possible to write near-future SF.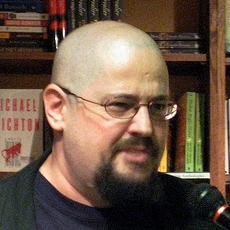 Utgangspunktet er selvsagt den pågående økonomiske krisen, som utvikler seg så raskt at produksjonsprosessen i forlagene simpelthen ikke henger med. Det kan fort gå tre år fra forfatteren får ideen til en roman, til boka finnes i bokhandelen. Stross setter dette opp mot de siste ukenes hendelser, og konstaterer at det virker fåfengt å skrive troverdig om hendelser rundt 2023, som han har planlagt å gjøre.
Like fåfengt som det må ha føltes for forfatterne og filmskaperne som sent på 1980-tallet gikk igang med prosjekter med utgangspunkt i at Sovjetunionen fortsatt ville eksistere, ut fra den rimelige antakelsen at imperier ikke raser sammen over natten. Scenariebyggeren Peter Schwartz skriver i sin bok The Art of the Long View at han som framtidstenker sjelden lar seg inspirere av science fiction, og Stross' artikkel tjener som en støtte til dette synet.
Hovedmålsetningen med litteratur eller film er tross alt ikke å se inn i krystallkulen, men å fungere godt som kunst og/eller underholdning. Som tidligere science fiction-forfatter kan jeg bekrefte at denne konflikten er reell nok: blir man som forfatter for opptatt av drivkrefter og troverdige scenarier, har handlingen lett for å bli treg og dialogen stiv og tvungen.
Fortrinnsvis bør man ha én hovedtråd i en bok, og da blir man nesten nødt til å tenke som Stross: hva er den mest sannsynlige situasjonen for USA og EU i 2023? Alternativt kan man gjøre som forfatteren Kim Stanley Robinson, som skrev tre fremtidsfortellinger om sin hjemstat California, med tre radikalt forskjellige utgangspunkter. På sett og vis scenariebygging i romanform, en metode som antagelig har mye for seg i tider som disse.