For en tid tilbake leste jeg Robert Heinleins tidsreiseklassiker, "The Door into Summer". Som det meste Heinlein skrev er denne boka lettlest og spennende, med fremtidsskildringer som er fjerne fra den virkelige fremtiden (nå vår fortid – mye av handlingen er lagt rundt 2000) men likevel så kreative at det blir god underholdning av det.
Et stort ekstra pluss for meg får boka for å ha en katt, Petronius eller Pete, i en sentral rolle. Det er også denne katten som gir boka dens tittel og gjennomgangstema, som introduseres på romanens første side.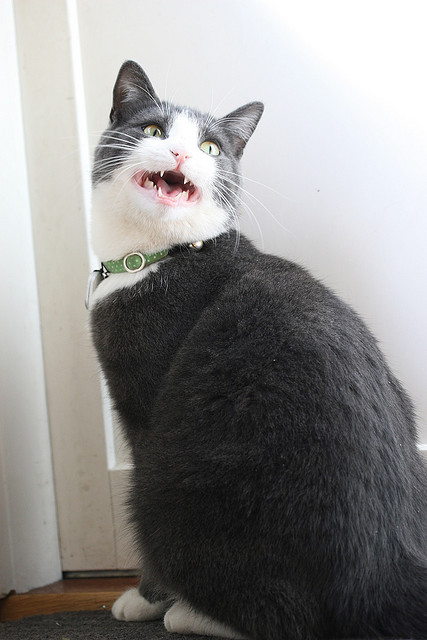 Ada ved sommerdøra. (c) Elisabeth Bjone
Jeg kjenner så godt igjen atferden som beskrives nedenfor fra våre egne katter (ikke minst Ada), som i kuldeperioder som den vi går gjennom nå gjør akkurat som Pete. Det vil si at pus løper bort til døra og ber meg åpne den om og om igjen, tydeligvis i håp om at denne gangen kommer det til å være sommer på den andre siden. Ada blir like skuffet hver gang selvsagt, men hun gir seg aldri. Hun vet jo at én gang blir det sommer utenfor døra igjen. Det er, som Heinlein viser i "The Door into Summer", mye å lære av det.
"While still a kitten, all fluff and buzzes, Pete had worked out a simple philosophy. I was in charge of quarters, rations and weather; he was in charge of everything else. But he held me especially responsible for weather. Connecticut winters are good only for Christmas cards, regularly that winter Pete would check his own door, refuse to go out it because of that unpleasant white stuff beyond it (he was no fool), then badger me to open a people door.

He had a fixed conviction that at least one of them must lead into summer weather. Each time this meant that I had to go around with him to each of eleven doors, hold it open while he satisified himself that it was winter out that way, too, the go on to the next door, while his criticisms of my mismanagment grew more bitter with each disappointment.

Then he would stay indoors until hydraulic pressure utterly forced him outside. When he returned the ice in his pads would sound like little clogs on the wooden flooor and he would glare at me and refuse to purr until he had chewed it all out… whereupon he would forgive me until the next time.

But he never gave up his search for the Door into Summer."
Bare rolig, Ada. Sommeren kommer, den.