New Scientist melder at paraplyorganisasjonen American Meteorological Society nå tar til orde for å støtte forskning på de klimatiske, økonomiske og etiske konsekvensene av geoengineering. AMS er den første større vitenskapelige organisasjonen som offisielt støtter et forskningsfelt som lenge har vært tabubelagt, og organisasjonen er nøye med å understreke at kutt i klimagassutslipp og tilpasning til forventede klimaendringer fremdeles er hovedstrategiene for fremtiden.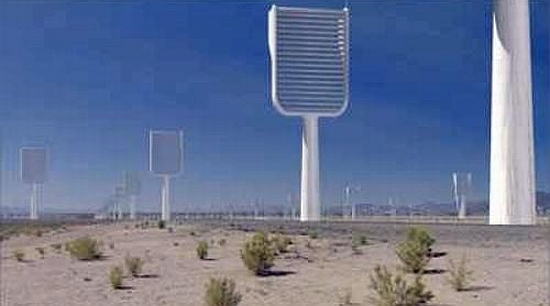 Et av mange foreslåtte geoengineering-tiltak er kunstige "karbontrær" som suger opp CO2
Få som har fulgt dette feltet noen år, bør overraskes av denne utviklingen. Selv om G8-lederne nylig ble enige om å kutte utslippene drastisk fram mot 2050, er konsensus blant klimaforskere at den globale temperaturen vil øke langt mer enn målet på 2 grader over gjennomsnittet før den industrielle revolusjon:
The truth is that few climate scientists believe this is possible, even with the G8's proposed target of cutting global emissions of greenhouse gases by 50 per cent by 2050. "An overshoot is inevitable," concluded a recent climate science summit in Copenhagen, Denmark (New Scientist, 21 March, p 6). "Atmospheric CO2 concentrations are already at levels predicted to lead to global warming of between 2.0 °C and 2.4 °C."
Eller om man vil: et kutt i utslippene innebærer fortsatt økning av CO2-innholdet i atmosfæren, med en sannsynlig økning i økning i temperaturen som resultat. Og ingen av forslagene som drøftes idag, tar sikte på å redusere dagens CO2-nivå på rundt 385 deler per million av atmosfæren, til nivået vi hadde før oljealderen (rundt 280 deler per million). For å få til dettte innen rimelig tid trengs sannsynligvis geoengineering-tiltak som kunstige "karbontrær". Spørsmålet er neppe om vi får se slik teknologi, men når. Derfor er det på høy tid at geoengineering løftes opp på et høyere politisk og vitenskapelig plan.