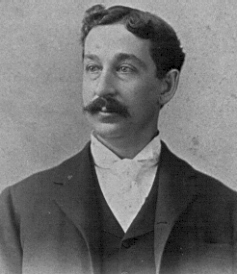 …(i anledning Litteraturfestivalen, selvsagt) var amerikaner og levde fra 1855 til 1932. Som så mange på sin tid var han en utopiker, et nærmest ukjent begrep i en tid som omfavner dommedagsvisjonene i verker som The Road og Children of Men. Vår forfatter var sosialist, hvilket plasserer ham i noenlunde samme selskap som den framtidsrettede forfatteren jeg omtalte igår. Men i motsetning til Jon Michelet var han ikke i stand til å svinge seg til de store litterære høyder, jamfør dette eksempelet fra hovedverket The Human Drift:
Under a perfect economical system of production and distribution, and a system combining the greatest elements of progress, there can be only one city on a continent, and possibly only one in the world.
Forfatterens grandiose visjon var å bygge giga-superduperbyen Metropolis ved Niagara Falls. Her skulle folk bo i kjempeblokker og jobbe for det ene gigantselskapet som eide alt, og som i sin tur var eid av arbeiderne. Strøm skulle man få fra Niagara-fallene, selvsagt. Det gikk med denne boka med de fleste bøker, og med forfatteren som de aller fleste forfattere: markedet foretrakk krim, og snart var hele verket glemt.
Men i motsetning til forfattere flest hadde vår mann sunt næringsvett. Han fikk én veldig god ikke-litterær idé, og gjorde det maksimale ut av den. Få år etter at ideen ble forvandlet til et salgbart produkt, hadde emballasjen med kontrafeiet hans gjort ham verdenskjent. Den dag idag er produktet (nå uten kontrafei, riktignok) uunnværlig for en stor del av Jordas befolkning, og man kan trygt si at King Gillette har gjort langt mer for menneskehetens ve og vel som oppfinner enn han noensinne gjorde som forfatter.