Ifølge tidsskriftet Aviation Week arbeides det nå i det stille med alternativer til Bush-administrasjonens visjoner for USAs framtid i rommet. Det er fremdeles bred støtte til utviklingen av romfartøyet Orion og bæreraketten Ares V, men mange romforskere ønsker å se et annet mål for disse fartøyene enn Månen, for om mulig å komme raskere til Mars. Robert Farquhar sier det slik:
It's becoming painfully obvious that the Moon is not a stepping-stone for manned Mars operations but is instead a stumbling block.
Istedenfor å utvikle månelandingsfartøyet Altair og bemannete månebaser som har begrenset relevans for en ferd til Mars, ønsker Farquhar med kolleger å satse på romferder til jordnære asteroider. Det er flere fordeler med slike romferder: de vil gi helt genuint ny kunnskap om solsystemet, de vil gi erfaring med ferder langt utenfor Månen, de kan komme til nytte om en asteroide havner på kollisjonskurs, og – ikke minst – de er mer inspirerende enn en gjentakelse av Apollo-programmet vil være.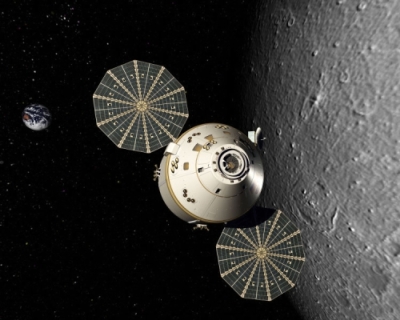 Konsepttegning av Orion-fartøyet i bane rundt månen (kilde: NASA)
Både Orion-fartøyet og bærerakettene kan utvikles som idag, men istedenfor å landsette mennesker på Månen i 2019, foreslås det en ferd til et av Lagrange-punktene som omgir Jorda. Dette er områder i rommet hvor et romskip kan oppholde seg i lengre tid uten å måtte justere kursen og forbrenne drivstoff, og det er også til et slikt område NASA planlegger å sende James Webb Space Telescope (JWST) i 2013. NASA har nå lagt til et tilkoblingspunkt for Orion på JWST, noe som tyder på at man holder mulighetene åpne for reparasjonsferder.